Grocery Android Apps with Backend, Manager and Driver App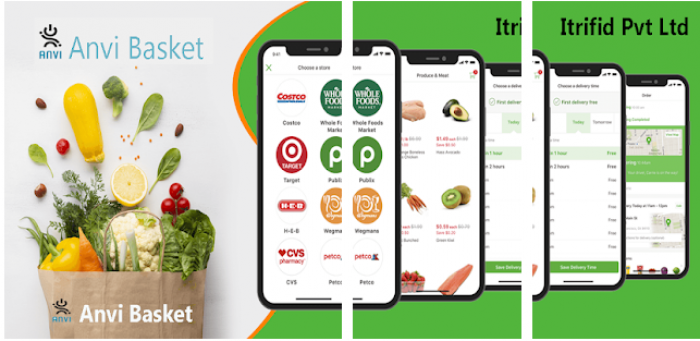 Grocery Android Apps with Backend, Manager and Driver App
Customers App Features
Customer will see products of nearby store/wahrehouse only,
Rewards / Loyalty on every order (if set by admin)
Wallet Option Customers can load cash to their Wallet for easy & fast checkout.
Delivery Convenience Customers can choose Date & Time as per their wish & get their orders delivered conveniently.
Customer can share & review the app
Customer can reach you via call, whatsapp & email
Customers can see current order statuses & past orders
Customers can redeem rewards points & it will be loaded to wallet.
Admin App Features
App User: Admin can see the total registered users on the app
Categories & Sub-Categories: Admin can create unlimited categories & sub-categories with custom icons
Products: Add master products for all stores by standard prices (Stores can change the price later)
Delivery Schedule Hours: Admin can set delivery timings, days to allow customer to choose preferred time slot
Orders: All store orders details can be seen here
Store Management: Admin can add multiple stores
Pages: Inner pages for to show on app like about us, contact us etc..
Rewards System: Admin can set the per reward point value for currency.
Custom Notification: Notify customers about new offer and all
Sliders: Admin can set any number of banners on the app.
Coupons: Admin can create discount / promo codes to offer discount
Deal Product: Admin can set deal of the product on any product & can offer special discount for 24 hrs.

Store & Driver App

Store can select the products from the master list to sell
Price Management by the store
Stock management
Store manager has the main feature to manage orders.
Manager can change order statuses
Manager can assign the order to Delivery boy

---

Delivery boy can see order details assigned to him
Delivery Boy can call customers with a click
Delivery boy can change the order final status
Video: https://www.youtube.com/watch?v=9egKTzZzHd4&t=10s
1. Why should I buy grocery app from your company ?
Ans : Because we can understand the feeling of new startup & hence this is total startup friendly price. So any new startup can afford it with very ease. 

2. Will i get source code with mentioned price ?
Ans : Yes , after full payment.

3 . How long will i get technical help from your company ?
Ans : 1 Year complete bug free support from our side 24*7 for free

4. How many apps will i get at this price ?
Ans : Total 3 apps ( Customer app , Store app , Delivery Boy app ) & 1 website ( informative)